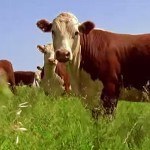 As well as the Permaculture Design System, I have come across other approaches to environmental regeneration like Holistic Management. Both recognise and value our planet. Both recognise there is something wrong in the way we inhabit it. Though our planet has been created with a mind blowing complexity, a "seemingly" limitless diversity of species and an awe-inspiring, innate capacity to multiply life, there is now a growing realisation of imminent threat!
A Movement Gathers Momentum!
One of the very positive movements on the planet today is associated with the land and the people who are closest to it. They are the farmers who recognise the truth about "industrial" agriculture and horticulture practices. Poor cultivation methods and the use of chemical fertilizers and poisons in these industries in the past one hundred years have served to degrade and destroy soil health. This has increasingly desertified up to a third of the earth's soils, reducing our capacity to produce nutrient rich food for humanity… and enough of it! Global food and fresh water security is threatened.
With this awareness, a growing tide of people from the scientific realm of these industries, together with the practitioners in the field, is now beginning to see things differently. They are shifting their practices into a different place. They are recognising the wisdom of the natural environmental processes and understanding more clearly how they were designed to function. They are beginning to practice agriculture in partnership with the natural world and are even mimicking its processes.
Consequently, on land where practitioners are employing these methods, soil quality and health is improving as vigorous microbial life returns to repopulate our farm lands. Organic matter and its associated carbon content is rebuilding the soil. The soil's capacity to hold nutrients and store water is improving. It is having a regenerative impact on the environment, improving the health, vitality and yield of crops and livestock. Is it possible that we can reverse the damage humanity has inflicted on the environment over the recent century?
Holistic Management
Allan Savory is one of those practitioners, well known globally for his leadership in developing the practice of Holistic Management and effective regenerative grazing techniques. And so much so, that the Savory Institute has been chosen as a finalist in Richard Branson's Virgin Earth Challenge. If you are on the land, you cannot afford to ignore the developments of Holistic Management.
There are some wonderful personal stories from farming practitioners who have seen a very significant change in their approach to agriculture and to their returns on investment as well. There are also some amazing, well documented stories of environmental/agricultural regeneration to be told too. The pastures are rejuvenated and the environment is obviously appreciating the change in practices.
I came across this documentary and thought that it might serve as a helpful "teaser" for those who would like to explore the subject of Holistic Management. Following the video, I have included a number of resources and links to encourage you in your pursuits. I hope you enjoy the video! But even more, if you are on the land, I hope you are moved to action by it!
Phillip Bradley
Other Resources
Allan Savory's TED Talk, March 2013
RegenAg: Regenerative Agriculture – An Australian based organisation.
Bruce Ward Legacy Trust – A great source of education. Bruce Ward was a strong advocate and legendary pioneer of Holistic Management in Australia, during his lifetime.
Regrarians – Australia's Darren Doherty from Bendigo, Victoria, has been a keen advocate and practitioner of Holistic Management methodology, inclusive of Permaculture practice and other regenerative farming technologies such as Yeoman's Keyline Design. Darren is recognised widely for his progressive thought and practice in these fields globally. His much anticipated "Regrarian's Handbook" contains a wealth of information for regenerative agriculture practitioners.
Inside Out Management – Brian Wehlburg is an active trainer for Holistic Management through his organization, InsideOutside Management. Together with others in Australia he is passionate about inspiring and equipping those who catch the vision of HM and choose to invest their lives with its benefits. There are a range of video resources available here.
Holistic Management International
Share the knowledge...