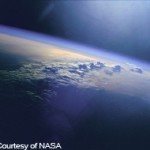 Our Amazing Planet!
This is a powerful and beautiful image of the earth, from space.  Our accumulated knowledge to date indicates that this is the only habitable place for us in the entire universe.
It is an amazing planet, this place. The simplicity of its beauty is awe inspiring. The intricate complexity of its design is stunning in its capacity to sustain life in all its diverse forms. Together as inhabitants of the earth we have a responsibility to participate in its life. We need to do so with respect and appreciation, caring for it while enjoying all of its abundant provision.
But there are some serious indicators that all is not well on this Amazing Planet.  Day by day we are gaining more and more insight into the damage we are inflicting on the Earth. We choose to avail ourselves of its resources as if they are infinite. Increasingly we are realizing that humanity is putting at risk the Earth's capacity to sustain life.  Land that is turning to desert is now multiplying across the planet at a rate that is alarming – United Nations.
There is however, some really good news that is very encouraging. Allan Savory reveals it in his TED Talk. Geoff Lawton has demonstrated it through his "Greening the Desert Project".
There are ways to reverse the damage and rebuild a healthy planet. But we cannot leave it too late. We can make a difference if we begin to modify our lifestyles and "tread more lightly" in the environment, now. Permaculture provides a practical way of doing this.
You can make a difference! Contact us at Applied Permaculture Design and we will help you take the steps. Begin your journey today and join others in regenerating this Amazing Planet.
Share the knowledge...