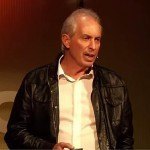 Graeme Sait is an Australian who is known globally as a pioneer in the field of soil nutrition.
His business, Nutri-Tech Solutions is a privately owned family company, with the goal of improving nutrition from the soil up. It is an example of a commercial enterprise that has grown and developed by pioneering a range of innovative strategies in biological agriculture. In recent years, the focus has expanded to include animal and human health solutions. Graeme and the company are committed to the concept of improving the nutrient density of our food while reducing the immune assault associated with farm chemicals. They continue to develop an emphasis on education through their four-day NTS Certificate in Sustainable Agriculture course, and numerous national and international one day courses.
In Nutri-Tech's own words, "We have termed our agricultural approach 'Nutrition Farming'® and we plan to utilise this concept as a marketing umbrella for growers seeking a genuine alternative to organics. Organics involves a long list of what you cannot do, while 'Nutrition Farming'® is all about what you can do to produce highly nutritious, medicinal food for the consumer. 'Nutrition Farming'® is a desperately important game plan for the improvement of our health and wellbeing in Century 21 – it is the sustainable production of nutrient-dense food for the protection and sustenance of all who consume it." (Here)
Graeme and his team are just some of a growing number of people globally who are seeking to make a difference to planetary health and impact the regenerative processes required to secure a hopeful future for all life forms on our amazing planet.
The worldwide Permaculture movement is an example people busily demonstrating that this is practically possible. Permaculture has been described as an "ethical design science" by Geoff Lawton . By observing nature and implementing complementary systems of design, we can see positive change in our soils and habitats that are quite rapid and profoundly effective. The Permaculture design system brings together a range of site elements and facilitates their functional relationships to achieve greater health and abundance. Incorporating strategic principles of Permaculture design and incorporating appropriate eco-technologies and practices is making a difference across the planet in association with the ethical principles that are foundational for permaculture practice.
Graeme Sait is a human being who shares a passion for the health and wellbeing of our planet and all its inhabitants. Through his life's work he has gained insights that are worth sharing. Here is a recent TEDxNoosa talk on the importance of humas in our soils. It is instructive and motivational – well worth viewing.
Share the knowledge...