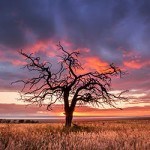 Australia experienced the hottest year on record in 2013! Global climate is dynamic and its extremes can have a devastating impact on the Earth and the life that inhabits it. The long term consequences to climate change continue to be debated. Some very interesting information through Geophysical Research Letters brings to light scientific research that suggests increased carbon dioxide in the atmosphere may be "greening" some regions of the planet in contrast to others. 
Science as well as common sense recognises that humanity is influencing environmental change on the earth. While we continue to consume the resources of the Earth at a rate that is unsustainable, the destructive and polluting impact of our industrious behaviour is having a disturbing effect on biological health, depleting the planet over time, of its capacity to sustain life as we know it.
I am convinced that humanity has the knowledge, the capacity and the resources to make a positive and regenerative impact on the Earth's future. But do we have the will? Applied Permaculture Design is committed to fostering positive change. Permaculture Design and other eco-technologies such as Keyline Design pioneered by Australian P.A. Yeomans and Holistic Management which was pioneered by Allan Savory, are demonstrating in practice, just how responsive the created world can be to change that considers its health and well-being as a priority.
Increasingly we are discovering how local food production can benefit the community at large, with its fresh, nutrient rich qualities. Adopting strategies that mimic nature and complement its healthy functioning demonstrates more effective ways of re-hydrating our landscapes for gardening and broad-acre agriculture. And in the process, this builds greater ecological resilience in the face of any changes to the dynamics of our climate. 
No matter where we live, adopting lifestyles that value the Earth's resources and uses them wisely, will have a positive impact on the environment and the place that we call home. Together with others across the planet, you can contribute to an effective regeneration of environmental health. 
So, what can we do to get started?
Get started by exploring Permaculture. A great resource can be found at Permaculture News. Read Bill Mollison's books, 'Introduction to Permaculture' and 'Permaculture Design-A Designers Manual'. You can purchase them from Tagari Publications or The Permaculture Research Institute. David Holmgren, another pioneer of Permaculture, has a book, 'Permaculture-Principles & Pathways Beyond Sustainability'. You can purchase it from here.
Begin to adopt some of the lifestyle changes that you notice will make a difference. If you are a gardener, plant more perennials. Maybe better management of our water resources is a priority for you. Undertake more effective water harvesting on your block. You just have to get started. You don't have to do everything. This way you will avoid being overwhelmed.
If you are on the land, farming, explore in conjunction with Permaculture, some of the eco-technologies mentioned above and learn about their application. See what the pioneering Australian, PA Yeomans did to transform his soil and achieve better water retention. Read his book, 'Water for Every Farm'. You can purchase it from here or here.
And if you need a helping hand, get in touch with us at Applied Permaculture Design. We will tailor a way forward that is just right for you.
Contact us to see how you can make a difference right where you live!
Phillip Bradley – Permaculture Designer
Share the knowledge...